So I have some aches this morning. It's not usually for me anymore. After the 4th installment of Dragonbowl yesterday, it's actually expected. If I were a fantasy player, my numbers would be phenomenal. I caught two TD passes, and tossed another one. Not to mention my several tackles and broken up plays on defensive. I also managed to kick another of the guys in the nuts.
On the way home, I called my older brother, who had just met Adian Quinn (Trainspotting, Legends of the Fall) who was in my hometown working on a new movie. When I said I'd just been playing football, he said 'You are to old for that.' I almost agree. But it is fun to play. Falling hard on your back, getting grass up/down your shorts, and suffering the occassional bruise may not seem like a good time, but it really is worth it. :)
My arms are pretty sore this morning though. It's not from the football, but rather from working out with weights during kickboxing on Monday. Anytime I work out harder, or with more weights, than usual (i.e. enough to create soreness later) I am never quite so sore the day after the workout. Just a little. But the second day after, I am like ten times as sore. It just doesn't make a lot of sense to me. Maybe that's the way it is supposed to work.
Anyone else read about the kid that was web surfing and realized he had been abducted as a child? That has to be a little weird. Like seeing your own face on the back of a milk carton, and then telling your teacher, and then getting put with a foster family because you've just got your mommy put in jail...
Anyway, a free taco to the first person that points out the apophasis in this post. Subject to terms and conditions, of course.
**/ add-on /** since Ninsi and Jessy posted while I was typing, I took the leader test real quick, and I think I win...

AND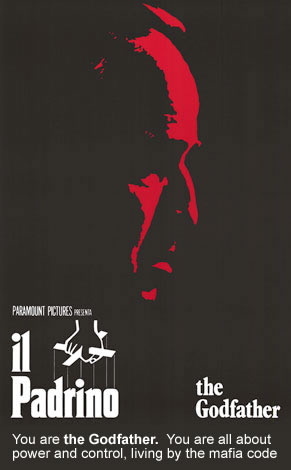 What Classic Movie Are You?